BENCHTOP CENTRIFUGE MANUFACTURERS & FACTORY IN CHINA
KETHINK is a professional benchtop centrifuges manufacturer in China. Our desktop low-speed centrifuge product line includes the smallest mini beauty saloon use centrifuge to large capacity hospital use models with a maximum speed of 6000 rpm. We can provide a variety of products to meet your application needs, from cell culture to clinical diagnosis to genomics. A variety of rotors and adapters are provided, which can safely and accurately match your work, help you achieve the best capacity and centrifugal force required by your application.
We also provide different rotor types for benchtop centrifuges and rotor customization services if needed. This series of desktop centrifuges can help you easily operate with one hand in a few seconds. The rotor is easy to assemble & disassemble, equipped with disassembly & assembly tools. The simple control panel is easy to learn and can clearly indicate the operating status.
BEST BENCHTOP CENTRIFUGES MACHINE
KT-TGL16W/TGL16WR High Speed Cold Centrifuge are the new generation high speed benchtop centrifuges that meet the optimal functionality with medium capacity for molecular biology applications.
A benchtop mini centrifuge is defined by its very compact size and limited power. These are typically stationed at each benchtop location and kept on hand to perform quick spin downs and other activities related to sample preparation.
KT-TDM3 is a specially designed benchtop plate centrifuge with a microplate rotor for a 48/96 well.It is usually used in the laboratory with a microplate reader for ELISA experiments.
Effortless Playing

It's no-load maximum speed reaches as high as 30000rpm.On-key to play.
Has an intuitive user interface that makes the operation very user-friendly.

Highly reliability

Special designed high quality fireproof and explosion-proof steel shell,
In addition with 2 layers of stainless steel inner cavity.
BENCHTOP CENTRIFUGES
Compact benchtop centrifuges provide precise speed control when separating sample contents in clinical or research laboratories. Different spin method devices accommodate plate or tube samples of different sizes and capacities. Despite high-speed capabilities for high-throughput applications and rapid production, benchtop centrifuges are minimal noise. Select models offer easily interchangeable centrifuge rotors in a variety of capacities and support a variety of centrifuge tube sizes. The refrigeration option supports temperature-sensitive samples.
Benchtop Refrigerated Centrifuge Series
KT-TGL16E High Speed Benchtop Centrifuge
Type: Benchtop, Refrigerated or High speed
Speed Range: 4000-16000RPM
Maximum RCF: 17800xg
Refrigerated: Yes
KT-TGL16D Benchtop Centrifuge for 50ml Tubes
Type: Benchtop, Refrigerated
Speed Range: 4000-16500RPM
Maximum RCF: 18900xg
Refrigerated: Yes
KT-TGL18D Benchtop Centrifuge Swinging bucket
Type: Benchtop, Refrigerated
Speed Range: 4000-18000 RPM
Maximum RCF: 26600xg
Refrigerated: Yes
KT-TGL20D Refrigerated Table Top Centrifuge
Type: Table Top, Refrigerated
Speed Range: 4000-21000RPM
Maximum RCF: 30930xg
Refrigerated: Yes
| | | | | | | | |
| --- | --- | --- | --- | --- | --- | --- | --- |
| Model | Max Speed | Max RCF | Max Capacity | Temp Range | Timer Range | Power Supply | Power |
| KT-TGL16E KT-TGL16ER | 16000rpm | 17800xg | 4*500ml | -20°C 〜+40°C | 1-99m/9h99min | AC 220V 50HZ 10A | 1.2KW |
| KT-TGL16D KT- TGL16DR | 16500rpm | 18900xg | 4*500ml | -20°C 〜+40°C | 1-99m/9h99min | AC 220V 50HZ 10A | 1.2KW |
| KT-TGL18D KT-TGL18DR | 18000rpm | 26600xg | 4*500ml | -20°C 〜+40°C | 1-99m/9h99min | AC 220V 50HZ 10A | 1.3KW |
| KT-TGL20D KT-TGL20DR | 21000rpm | 30930xg | 4*750ml | -20°C 〜+40°C | 1-99m/9h99min | AC 220V 50HZ 10A | 1.4KW |
Benchtop Low Speed Centrifuge Series
| | | | | | | | | |
| --- | --- | --- | --- | --- | --- | --- | --- | --- |
| Model | Max Speed | Max RCF | Max Capacity | Display | Timer Range | Power Supply | Power | Noise |
| KT-TD6AWS/KT-TD6AMR | 6000rpm | 5180xg | 4 * 500ml | LED/LCD | 1 -99min/9h59m | AC220V 50HZ 10A | 700W | ≤62dB(A) |
| KT-TD5AWS/KT-TD5AMR | 5500rpm | 4650xg | 4 * 500ml | LED/LCD | 1 -99min/9h59m | AC220V 50HZ 10A | 600W | ≤65dB(A) |
| KT-TDZ5WS/KT-TDZ5MR | 5500rpm | 4390xg | 4 * 250ml | LED/LCD | 1 -99min/9h59m | AC 220V 50HZ 10A | 450W | ≤55dB(A) |
| KT-TDZ5M | 5500rpm | 4390xg | 8 * 50ml | LED/LCD | 1 -99min/9h59m | AC 220V 50HZ 10A | 500W | ≤55dB(A) |
| KT-TDZ4C | 5000rpm | 4220xg | 4* 100ml | LED/LCD | 1~99min/9h59m | AC220V 50HZ 5A | 150W | ≤55dB(A) |
| KT-TDZ4E | 4000rpm | 2580xg | 24*15ml | LED/LCD | 1~99min/9h59 | AC220V 50HZ 5A | 110W | ≤55dB(A) |
| KT-TDZ4WS | 4000rpm | 2480xg | 4 * 50ml | LED | 1~99min | AC220V 50HZ 5A | 110W | ≤55dB(A) |
| KT-TDZ4AWS | 4000rpm | 2580xg | 4* 100ml | LED | 1~99min | AC220V 50HZ 5A | 140W | ≤55dB(A) |
| KT-TDM3 | 3000rpm | 1780xg | 4 * 2 * 96ml | LED/LCD | 1~99min | AC 220V 50HZ 5A | 110W | ≤55dB(A) |
| KT-TXK4 | 4000rpm | – | 12/24 cards | LED/LCD | 1 – 99min | AC 220V 50HZ 10A | 200W | ≤55dB(A) |
| KT-TXD3 | 3000rpm | 1980xg | 6*0.5ml,6*1.5ml,6*2ml | LED/LCD | 1~99min | AC 220V 50HZ 5A | 450W | ≤55dB(A) |
| KT-TD3WS | 4000rpm | 2200xg | 8*15ml | LED | 1~99min | AC 220V 50HZ 2A | 50W | |
HOW TO USE A BENCHTOP CENTRIFUGE
Although the working principle of a centrifuge is complex, operating the machine itself is very simple.
WHY CHOOSE US AS YOUR BENCHTOPCENTRIFUGE SUPPLIER IN CHINA
KETHINK is the best benchtop centrifuge manufacturer, supplier and factory since 2010. We provide all types of centrifuges.
The R&D team has more than ten years of working experience in the centrifuge industry.
Our benchtop centrifuges have passed CE, ISO 9001, ISO 13485.
Our random gift of plastic centrifugal tubes suit for different centrifuge capacity.
OEM/ ODM/ SKD order available.
Free to print LOGO, or color boxes for bulk orders.
Provide second-hand benchtop centrifuge maintenance services.
Our benchtop centrifuge has been exported to US, UK, Indonesia, Italy,South Africa, Oman, and Singapore at competitive prices & 1 year warranty.
Have a Special Requirement?
Generally, we have common centrifuge products and raw materials in stock. For your special demand, we offer you our customization service. We accept OEM/ODM/SKD. We could print your Logo / brand name on the casing. For an accurate quotation, you need to tell us the following information:
Specification
Our centrifuge can be customized with panel, casing, speed. Customized rotor available too. We can tailor according to the provided schematic diagram, or designed by us.
Quantity
No MOQ limit. But for the max quantities, it will help you get the cheaper price. More quantity ordered, the lower price you could get.
Application
Tell us your application or detail information for your projects. We can offer you the best choice, meanwhile, our engineers can give you more suggestions under your budget.
Warranty periods
Mostly, our guarantee periods for our centrifuge is 1 years. Different guarantee periods will be with different solutions in raw materials.
What we can offer you…
Best Quality
We have rich experience in the manufacture, design and application of centrifuge, and served more than 210 customers from worldwide.
Competitive Price
Our centrifuge has an absolute advantage in price. Under the same quality, our price is generally 10%-30% lower than the market.
Testing Service
All products have been EMC tested to ensure the operator's safety and reliability of the centrifuge in the working process.
After-sale
We provide 1 year guarantee policy. Within warranty period, maintenance costs due to product quality will be on our account.
Shipping
We have experienced shipping forwarder, available to do shipping by air express, sea, and even door to door service.
ABOUT KETHINK
KETHINK is one of the benchtop centrifuge manufacturers which is specialized in producing, designing, supplying, exporting centrifuges.
Manufacturing and exporting centrifuges including benchtop centrifuges, PRP centrifuges, high-speed centrifuge, blood centrifuges, gel card centrifuges, etc, all of the centrifuges are CE Standard. For all of the orders, we can do customized designs for color boxes, and print logos on the body.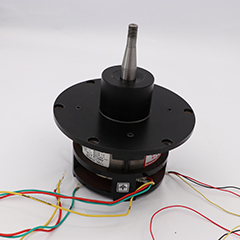 Maintenance-free DC brushless motor prolongs the service lifespan. No need to replace carbon brushes, saving maintenance costs and providing a strong source of rotation power.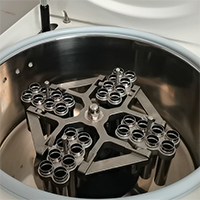 Over-temperature, over-speed, over-current, over-voltage, maloperation, automatic unbalance recognition, unbalance protection function.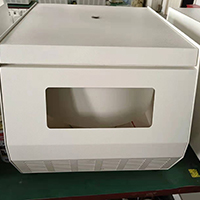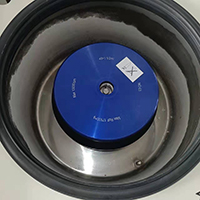 High-quality steel body, built-in stainless steel explosion-proof protective inner sleeve, anti-corrosion stainless steel centrifugal cavity, three-layer protective sleeve structure to ensure user safety.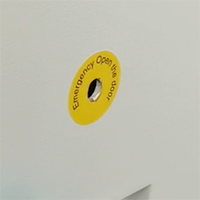 With emergency unlocking hole in case of door lock failure.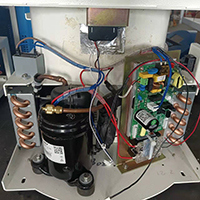 High-reliability waterproof PCB board ensures stable operation.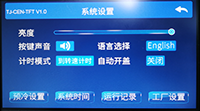 Chinese and English bilingual display, language selection can be set manually.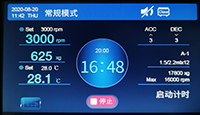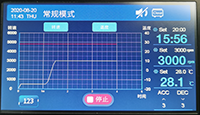 LCD display include two centrifugal display modes: regular mode & program mode. Regular mode includes numerical display and curve display.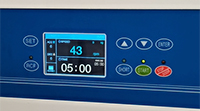 One key switches to display the centrifugal force value. The parameters can be set arbitrarily during operation without stopping the machine.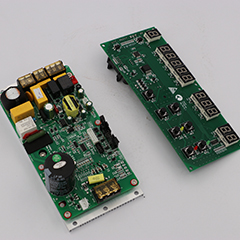 Intelligent microprocessor control system that can display set and actual parameters simultaneously. Users can set up/down rate arbitrarily.With instant spin and timing speed counting function.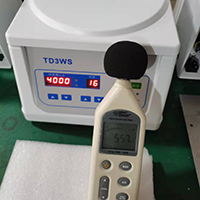 A soft brake function to effectively prevent the sample from resuspending. Three-level shock absorption, low vibration and low noise on lab worktable.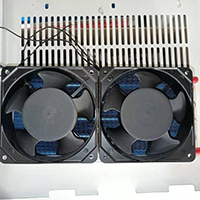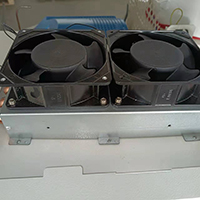 Unique air-cooled exhaust design:running for 20 minutes, experimental temperature rise <10℃.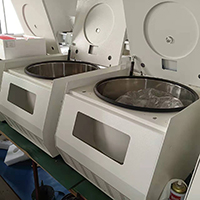 Double door lock system: electronic lock & mechanical door lock. Automatically lock when the machine starts.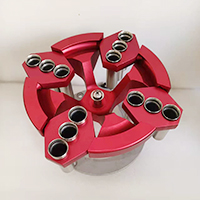 A variety of standard rotors are available for selection. A full range of horizontal rotors,angle rotors & adapters can be manufactured according to customer requirements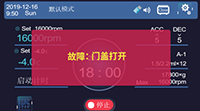 Automatic fault detection, double fault alarm (buzzer & page alarm display), automatically stop running.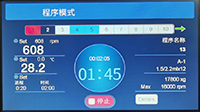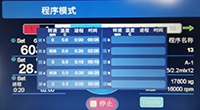 LCD display:program selection, creation and parameter editing can be performed under program mode. Multiple centrifugal projects can be set according to the experimental process and run in sequence.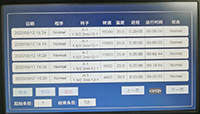 LCD display:easily query and export nearly 2000 historical centrifugal records.
Small size, multi-function
This series of products can easily meet the routine application needs of various hospital laboratories, and at the same time can save laboratory space due to their compact size. There are as many as 9 types of rotors to choose from, and the installation is simple and convenient, and one machine can be used for multiple purposes without spending more money.
Simple setting,intuitive display
Under normal procedures, LED light touch button/LCD touch operation requires only 3 steps of button setting to start fast rotation operation. The display screen synchronously displays the current rotor number, speed and time. The rotor automatic identification technology does not require additional operation settings, and the rotor number is displayed synchronously.
Multiple safety protections, safer experience
Triple physical safety protection design, double door cover lock, anti-pinch design brings customer a better & safer operation experience.
Whether you need to customize the whole machine, or need to customize the rotor and adapter, just put forward your needs, we can make it.
Strong & stable centrifugal force
Electric centrifuge runs stably with low noise, no human operation is required. Better sample centrifugation quality, more efficient and labor-saving than manual centrifuge.
Meet individual needs, save working time
Programmable design to help users achieve personalized separation technical requirements. A variety of separation programs can be run in sequence after setting the sequence, saving working time. Multi-user operation is possible, and historical records can be queried and exported.
Automatic fault detection and alarm, safer and more efficient
Automatic detection and power-off protection function effectively improve the safety of the experiment. It allows you to work at ease no matter which area of the laboratory. The alarm buzzer can promptly remind users of the fault and adjust timely. No matter where you are in the laboratory, you can conveniently monitor the operation status.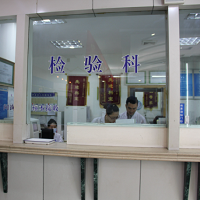 KT-TDZ4WS
KT-TDZ4C
KT-TDZ4E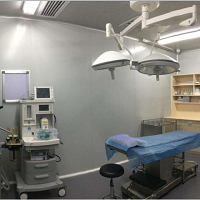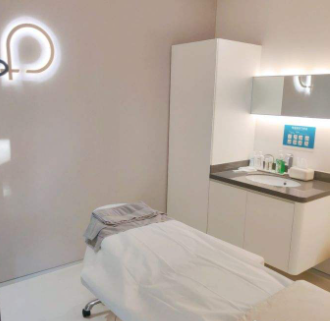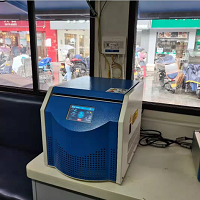 KT- TD5AWS
vehicle load model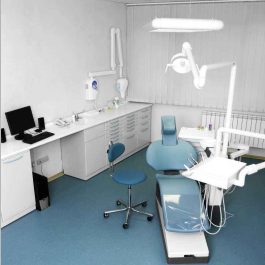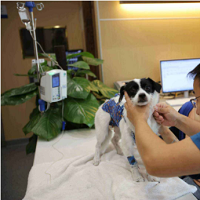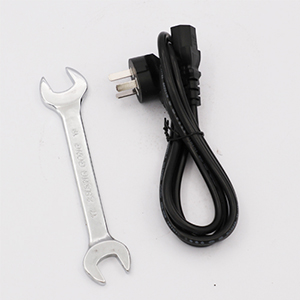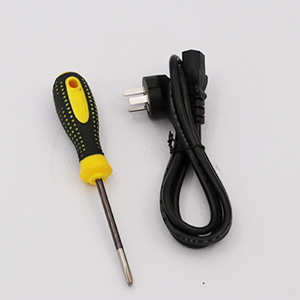 Full packed in flight case