Microplate Centrifuge with Rotor and Plate
The newly updated KT-TDM3 Microplate Centrifuge brings many innovative features. Microplate centrifuge with two microplate 48/96 wells. It is commonly used in ELISA experiments with a microplate reader in the laboratory. From modern exteriors to powerful interiors. As well as an aesthetically pleasing PCR microplate spinner, it provides outstanding performance for a range of microplate spin protocols.
This compact plate centrifuge can be used for 96/384 well PCR plates. Therefore, the KT-TDM3 Microplate Centrifuge is the perfect 96/384-well plate centrifuge. Suitable for all laboratories that routinely use PCR microplates. With a maximum capacity of 4296 wells, it is the perfect choice for laboratory batch sample processing. A variety of custom rotors are available, including deep well plate rotors.
Model NO: KT-TDM3(LED)
MAX Speed: 3000rpm
MAX RCF: 1780xg
MAX Capacity: 4 *2 *96 ml
Speed Accuracy:± 20r/min
Timer Range:1-99min
Motor: AC Inverter Motor
Noise: ≤ 55dB(A)
Power: AC 220V 50HZ 5A
Net Weight: 45kg
Device Dimension: 600*510*390mm(L*W*H)
KT-TDM3 Microplate Centrifuge Features
The KT-TDM3 includes a uniquely designed swinging turret capable of holding 2 microplates. The easily accessible rotor chamber includes two plate holders placed at a 75° angle. This allows confident insertion of the board without sealing tape or lids. After closing the centrifuge lid, the rotor accelerates and centrifugal force "swings" the plate into a horizontal position. Any droplets on the wall of the plate will quickly concentrate to the bottom of the well.
Using a g-force of 1780xg, most samples can be spun down in 20 seconds. To end the run, simply open the lid. The automatic electric brake brings the rotor to a quick, smooth stop in just 4 seconds. The plate can then be easily removed from the rotor.
Microplate Centrifuge Rotors (optional):
| | | | | |
| --- | --- | --- | --- | --- |
| NO | Item | MAX Speed(rpm) | MAX RCF (xg) | ELISA plate volume(ml) |
| N0.1 | Horizontal ELISA Plate Rotor | 3000rpm | 1780xg | 2*1 *48 well |
| N0.2 | Horizontal ELISA Plate Rotor | 3000rpm | 1780xg | 2*2*48 well |
| N0.3 | Horizontal ELISA Plate Rotor | 3000rpm | 1780xg | 2*2* 96 well |
| N0.4 | Horizontal ELISA Plate Rotor | 3000rpm | 1780xg | 4*2* 96 well |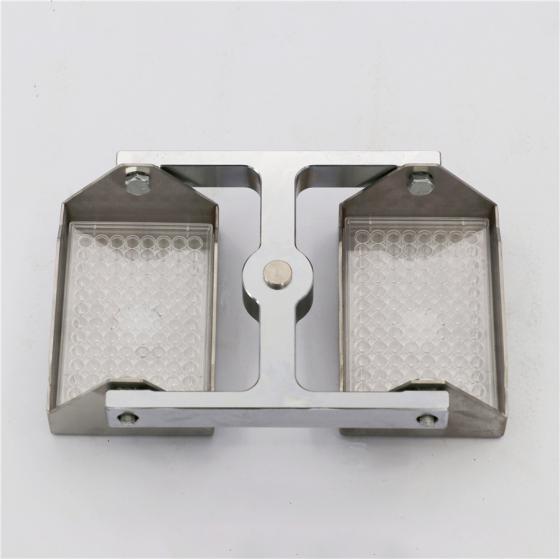 What Our Clients Say
Related Products
KT-MPC2800 96 well Plate Centrifuge is designed for quick spins of samples in PCR plates.
KT-MPC2800 mini plate spinner centrifuge is designed for quick spins of samples in PCR plates.
KT-TMD3 is a specially designed benchtop plate centrifuge with a microplate rotor for a 48/96 well.
WARRANTY INFORMATION
All products we sell are backed by a manufacturer's warranty. Warranty information is included with the product and is subject to conditions specified by the manufacturer. We include this information in each item's product details, if available. Manufacturers warrant that their products are free from defects in material and workmanship. Any product found to be defective under this warranty may be repaired or replaced. Warranty is issued within the first 14 days of purchase. After this point, the product manufacturer must be contacted directly to resolve any warranty issues. In many cases, manufacturers can diagnose and resolve product issues over the phone. For more information or to obtain the manufacturer's contact information, please call +86-18390906578
PURCHASING & DELIVERY
We take pride in making sure your order gets out quickly. We carefully check every item before shipping and we give extra care to our packaging to make sure every item arrives safely. Orders normally ship via UPS Ground, FedEx, or USPS within 1-2 days when in stock. Some items are drop shipped from the manufacturer and can take a little longer. For your convenience, whenever we ship an order, we electronically mail a shipping confirmation notice including the tracking number from UPS, FedEx, USPS, or a local delivery service.
DROP SHIP ORDERS
Orders that are drop shipped from the manufacturer are subject to the manufacturer's availability and shipping schedule. Some items are special order or built-to-order and can take an average of 5-7 business days to ship. We make reasonable attempts to provide and display a shipping lead time on each product we sell. If you have any questions about our shipping policy or would like to know the availability or lead time on a specific drop ship product please feel free to contact us via our Contact Us Page. If you would like a drop shipped item expedited, please place your order by phone to guarantee your order can be expedited.
PAYMENT POLICY
We accept Visa, MasterCard, PayPal, American Express, and Discover.
Please note: When the checkout/customer details section asks for your "personal information", please enter your full name and billing address. The name and address you enter must match the information you have on file with your credit card provider, or the order will not be authorized. If your credit card gets declined for any reason, a charge may show pending on your account. This charge will fall off usually within 24-48 hours depending on your bank.