96 Well Plate Centrifuge for 2 PCR Plates
KT-MPC2800 96 well Plate Centrifuge is designed for quick spins of samples in PCR plates. Primarily designed for use with 96 well plates and small volumes, it can accommodate skirted, non skirted and semi skirted styles.
Sealed plates are loaded vertically and surface tension keeps samples in place.There is no need to worry that the samples will spill. This centrifuge can accomondate all standard 96/384 well PCR plates. Foam adapters that comes with the machine help to reduce noise and makes it easier to fix the tube.
Model: KT-MPC2800
Rotating speed: 2200~2800rpm
Timing range: 15sec ~1min59sec
Max(RCF): 550xg
Acceleration time : ≤10sec(from 0 to 2800rpm)
Brake time: ≤4sec(from 2800rpm to 0)
Lid Open Auto Stop: Yes
Short run: Yes
Capacity: 2 PCR plates(0.2ml, 96 well plate)
Power: 45W
Voltage: AC100~240V/50-60Hz
Fuse: 250V/3A Ф5×20
Dimension(mm): 260*240*226
Weight(kg): 3.3
Ambient temperature: 0°C ~ 35°C
Relative humidity ≤70%
KT-MPC2800 96 PCR Plate Centrifuge Features
Operating Video & Pictures
Packing & Accessories
How to centrifuge 96 well plate?
KT-MPC2800 mini plate centrifuge makes the safe and quick spin down of droplets and condensation very easy,and it is very small in size – just 26cm*24cm.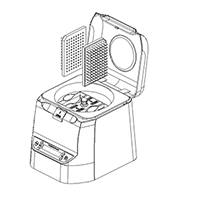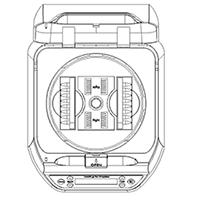 Related Products
KT-MPC2800 mini plate spinner centrifuge is designed for quick spins of samples in PCR plates.
The newly updated KT-TDM3 Microplate Centrifuge brings many innovative features. Microplate centrifuge with two microplate 48/96 wells.
KT-TMD3 is a specially designed benchtop plate centrifuge with a microplate rotor for a 48/96 well.