Dry block incubators, heat block / digital – KT-DH200
The KT-DH200 dry block incubator is a microprocessor-controlled dry block heating system with highly precise temperature control, making it an alternative to the traditional water bath devices. It is widely used in the sample preservation, reaction of DNA amplification, electrophoresis, degeneration, solidification and other kinds of serum biochemical sample thermostatic incubation process. There are four heating zone in the heating module, each zone can be timed independently. The system comes with hardware and software dual over-temperature protection functions. Automatic pre-heating design when power on saves opeartion time. Easy to operate control panel, digital LCD display running data and setting data simplifying laboratory procedures.
Model NO: KT-DH200
MOQ: 1 set
Price: negotiable
Block: customized blocks available
Warranty: 2 years for free,technical support for life
Packing: carton box with anti-shock foam
Payment: TT, paypal,western union
Delivery: within 5-7working days
With a unique design, compact size and small footprint, KT-DH200 heat block incubator is lightweight and can be placed on a benchtop or flat surface in any laboratory setting. Furthermore, optional 18 heat modules & customized module service allow for greater versatility as well as convenient replacement, cleaning, and disinfection.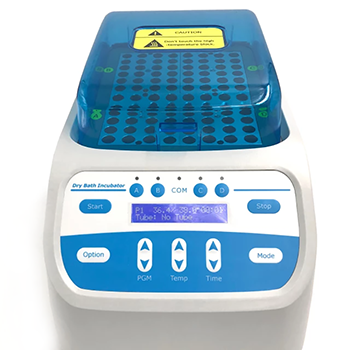 | | |
| --- | --- |
| Model | KT-DH200 |
| Temp setting range | 0°C ~110°C |
| Temp control range | RT+5°C ~110°C |
| Timing range | 1min ~ 99h59min/∞ |
| Temp accuracy | ≤±0.3°C@37°C* |
| Display accuracy | 0.1°C |
| Temp uniformity | ≤±0.3°C@37°C * |
| Heating time | ≤20min(from 25°C~110°C) |
| Auto heating | Yes |
| Auto running | Yes |
| Auto resume to run | Yes |
| Timing independently for each group | Yes |
| Block quantity | 4 |
| Power | 500W |
| Voltage | AC110V or AC220V/50-60Hz |
| Fuse | 250V 3A Ф5×20 |
| Dimension(mm) | 370*254*228 |
| Weight(kg) | 8.0 |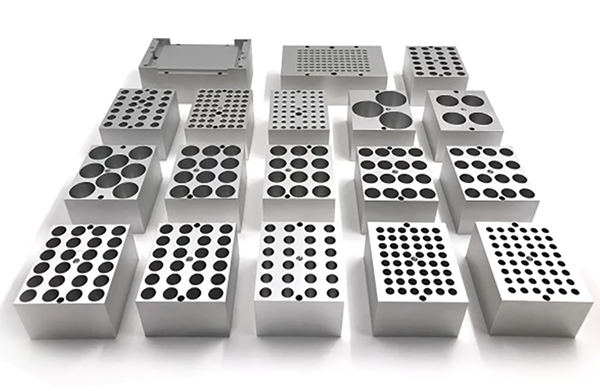 | | | | | | |
| --- | --- | --- | --- | --- | --- |
| Model | Tube Diameter | Capacity | Model | Tube Diameter | Capacity |
| MD01 | 6mm | 48 | MD10 | 26mm | 8 |
| MD02 | 7mm | 48 | MD11 | 28mm | 4 |
| MD03 | 10mm | 24 | MD12 | 40mm | 3 |
| MD04 | 12mm | 24 | MD13 | 0.2ml centrifuge tube | 48 |
| MD05 | 13mm | 24 | MD14 | 0.5ml centrifuge tube | 48 |
| MD06 | 15mm | 16 | MD15 | 1.5ml centrifuge tube | 24 |
| MD07 | 16mm | 16 | MD16 | 2.0ml centrifuge tube | 24 |
| MD08 | 19mm | 12 | MD17 | 0.2ml PCR plate | 96 |
| MD09 | 20mm | 12 | MD18 | 0.2ml Elisa plate | 96 |
What is a dry/heat block incubator?
A dry block incubator also known as dry block heater/ heat block, is a lab device for constant temperature heating of laboratory samples. The machine is generally composed of a main host and a heating block.
Generally speaking, the dry-type main host has several parameters such as temperature control range, heating time, temperature stability, module temperature uniformity, display accuracy, time setting and temperature, etc. As for the temperature control range, there are usually two types: 0-100°C and 0-150°C, which can be selected according to specific applications.
The heating block adopts high-purity aluminum material as the heat conduction medium to ensure excellent thermal conductivity and uniform heat distribution. Heating blocks with different hole diameters can be selected according to the size of the test tube. The device is widely used in molecular biology and clinical and environmental laboratories.
Currently on the market are mainstream digital dry baths. The digital units integrate a microchip into the model which allows the temperature of the bath to be controlled through the digital interface. Depending on the tube size of the block, the user can place a certain number of tubes in each block.
When Should I Use a Heat Block?
A heat block also known as dry block incubator, is a digital microprocessor controlled heater that provide precise regulation and rapid heating. The aluminum material module ensures that the heater can uniformly transmit heat energy to each module. The temperature control is regulated by digital display, which makes the control accuracy higher and more stable.
There are multiple advantages of using a KETHINK heat block. Compared with traditional water bath, it has the advantages of cleanliness, no pollution, small size, convenient movement, safety and reliability, simple operation, and fast temperature change. There is no need to worry about water accidentally entering the reaction tube and contaminating it Reagents will affect your experiment, while the temperature control is better, and the temperature control range is also wider.
It can be widely used in sample preservation, preservation and reaction of various enzymes, denaturation treatment of nucleic acid and protein, PCR reaction, pre-denaturation of electrophoresis and serum coagulation, etc. Commonly used in molecular biology experiments, such as enzyme digestion, protein denaturation, melting agarose, nucleic acid amplification detection pre-reaction, etc., as well as other experimental sample preservation, rapid serum precipitation, coagulation, etc.,.
A heat block is a common instrument in life science laboratories and hospital clinical laboratories, and it is also a good assistant for scientific researchers.
KETHINK offers a wide assortment of heat blocks at affordable prices.